Missed a payment on one of your installments? Firstly, don't panic!
Method 1: If it is still within 2 days from your installment payment due date,
- kindly top up your Primary FavePay Later card with sufficient balance OR update your Primary FavePay Later card by following these steps in this linked article: click here.
Method 2: If it is 3 days or more from your installment payment due date,
- If your Fave app is on app version 3.19.0 and above, you can click on a "Pay Overdue Amount" button at the bottom of FavePay Later page to repay all late payments in one go! Kindly ensure your app version is updated to version 3.19.0 and above for a more seamless repayment experience.
- If your Fave app is on app version 3.18.0 and below, you can change/ update your card details for the said installment by going to your Me tab > My FavePay Later page, then click on the transaction with the late payment (indicated by the "Late" label as indicated in the screenshot example below).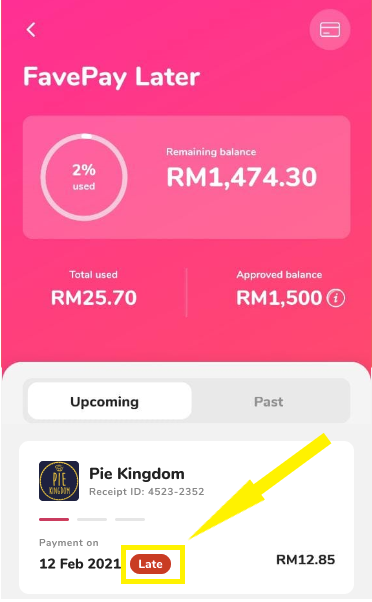 Next, tap on the installment due and follow through with all the prompts to update your card details.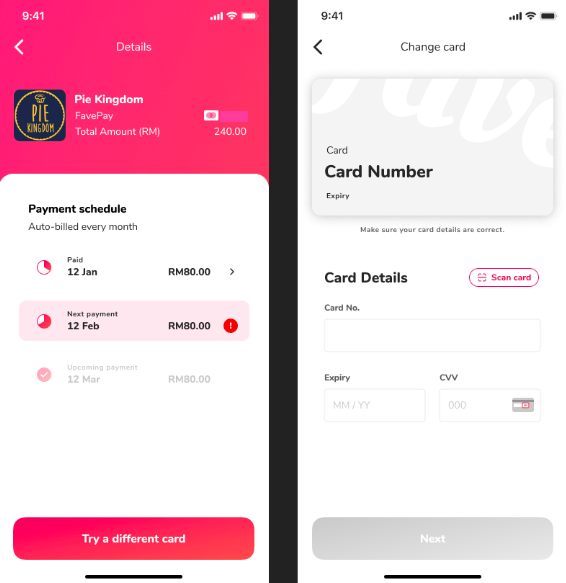 Once you have updated your card through the steps mentioned, an attempt will be made to charge the late payment* to your newly-updated card.
Method 3: Auto-recharge cycle after 8th late payment day*
If your card is not able to do the auto-deduction within the first 7 days from your subsequent scheduled payment, please ensure that your card has sufficient payment limit for our system to re-attempt to charge your FavePay Later's Primary card and any existing secondary card on the Fave account. The auto-repayment cycle* will run every 3 days from 25th of the late payment month, up until 6/7th the following month and will only occur once for every late installment. CLICK HERE to read further explanation regarding the auto-repayment cycle.
*Payments more than 7 days late are subject to a 1.5% penalty fee, according to our terms here.