Yes, you can get a refund as long as your cancellable voucher is within the cancellation deadline.
Kindly take note:
Only 1 voucher can be cancelled every 24 hours from your previous cancellation.

Cancellable vouchers can be cancelled within 3 days from the purchase date.

Once the deal is cancelled, any promo code used to purchase the deal will be forfeited and you will not be able to reuse it.

Cancellations can only be made via the Fave app.
Here are the steps to cancel your voucher on the Fave app:
1. Access your purchased vouchers by going to the 'Me' tab. Select the voucher you would like to cancel.
2. Scroll to the bottom of the voucher and click on the option "Cancel this deal". Click on "Cancel" and a pop-up will appear for you to confirm.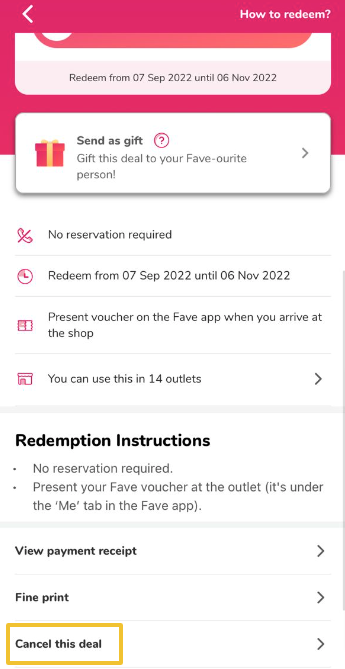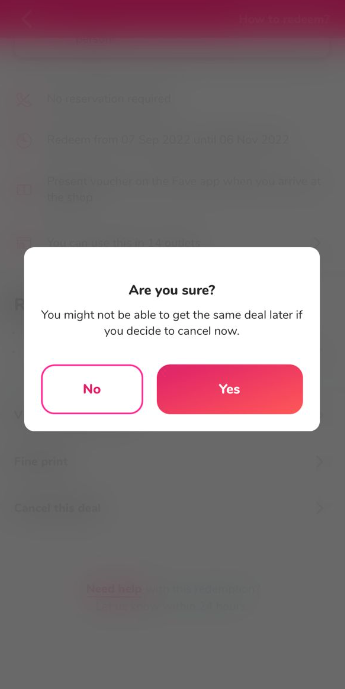 3. Another popup will appear for you to provide the reason for cancellation.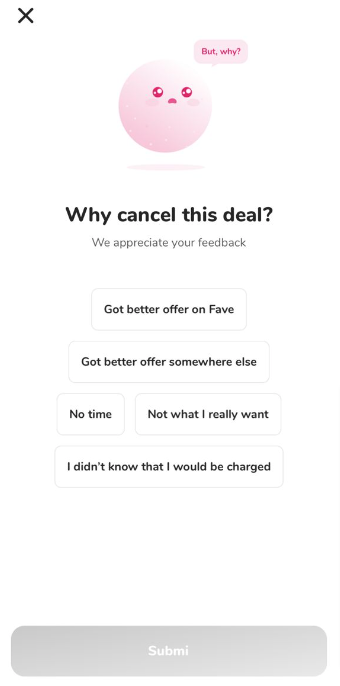 4. Once the reason is selected, the voucher will be cancelled.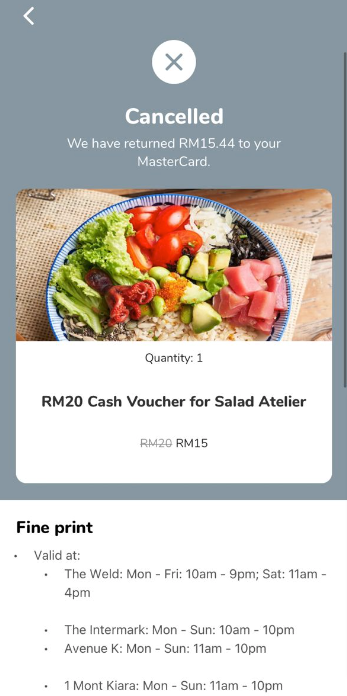 Payment method used to purchase voucher
Refund method
Waiting Duration
Credit card

Back to original payment method

7-14 working days

Debit card
Online banking (For Malaysia users)
GrabPay

24-48 hours

Boost (For Malaysia users)
TnGo (For Malaysia Android users)
Fave Cashback

Back to original form, with original validity period

Immediate

Fave e-Cashback
Notes:
1. If your purchase was made utilising both original payment method + Fave Cashback/e-Cashback, the amount will be refunded to your source of fund account and Fave account respectively, following the duration as stated in the table above.
2. This refund process for e-wallets is effective for cancellation made on 5 February 2021 onwards and supports all devices with Fave app version 2.92.0 and above. Vouchers purchased using e-wallet and cancelled before this date will be refunded in Fave Cashback with 3 months validity to offset any transactions on Fave, sitewide.
3. Any purchase made using Fave Cashback/e-Cashback will be refunded in its own form upon cancellation from your end, and will follow the original validity period.
For any issues with cancellation, kindly contact our team via hello@myfave.com or via the Talk To Us on the app within the cancellation deadline.